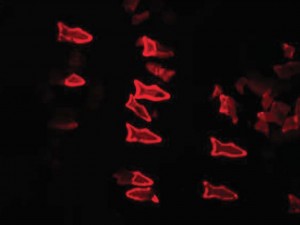 Scientists at the University of California, San Diego developed a new 3D-printing technology to fabricate fish-shaped microrobots, chemically powered by hydrogen peroxide and magnetically controlled. 
The microfish herald a new generation of smart microrobots with diverse capabilities, such as detoxification, sensing and directed drug delivery.
Providing improvements over previous microrobots, which are typically much simpler in design and made of homogeneous inorganic materials and thus limited to far less sophisticated tasks, the new technique can fabricate more complex microfish, with various locomotion mechanisms, such as microjet engines, microdrillers and microrockets. 
The nanoengineers integrated functional nanoparticles into the fish, such as platinum nanoparticles in the tails that react with hydrogen peroxide to propel the microfish forward and magnetic iron oxide nanoparticles in the heads to enable steering the fish with magnets. 
Microfish smaller than the width of a human hair
What is truly innovative about these nanodevices is integrating this nanotechnology — the nanomotors, nanoparticles and so forth — with 3D-printing. "Figuring out how to embed nanotechnology into the 3D-printing process is a big challenge," says Professor Shaochen Chen in UC San Diego's nanoengineering department. He goes on to say that his team was eventually able overcame that hurdle by meticulously investigating the materials and fabrication issues for the fish. 
The new method for engineering these microdevices, which are smaller than the width of a human hair, is based on a rapid, high-resolution 3D-printing technology called microscale continuous optical printing (μCOP), which was developed in Chen's lab. Key applications for microrobots such as these 3D-printed fish could include drug delivery, environmental detoxification, water cleaning and surgical microrobots that operate with beyond-human precision. 
To demonstrate their proof-of-concept, the researchers embedded toxin-neutralizing polydiacetylene (PDA) nanoparticles throughout the bodies of the microfish to capture harmful pore-forming toxins, such as the ones found in bee venom. 
Written by Sandra Henderson, Research Editor, Novus Light Technologies Today